Premium WhereScape Implementation and Training Partners in The UK
Engaging Data has over 10 years experience working with WhereScape projects.
We are Data Warehousing turnaround specialists, delivering complex time-critical projects where WhereScape expertise is required.
We have experience across a number of industry sectors, including Financial Services, Transportation and Logistics, Healthcare and Life Sciences.

---
You Architect, We Automate!
Engaging Data has a wealth of experience in fast-tracking the development, deployment and operation of your data infrastructure projects.
Dramatically reduce the delivery time, effort, cost and risk of new projects, and better position projects for future business change.
---
ELT not ETL; WhereScape RED automates source system exploration, target schema design & data modelling with an integrated metadata repository. Small teams of data warehousing professionals, working in Agiles methods, can quickly implement data warehouses, practising interactive-build-and-test disciplines, and involve key end-users in the build process.
Agnostic of data structure and modelling style (3NF, Star Schema, Data Lake, Data-Vault, etc.), WhereScape RED quickly builds the ELT process to create the data model.
Unknown data structures can use WhereScape 3D, visual exploration of data & data structure. 3D can port the metadata to RED allowing for automation; either approach/tool will speed up the discovery & modelling of your data.
Enterprise data warehouse, data mart, simple reporting services can use WhereScape RED functions offer an integrated, cost-effective alternative to complex and expensive DIY solutions.
---
Key Features
WhereScape Red allows for the ELT design to be changed between on-premises or cloud database platforms via code templates. Enabling your data warehouses, data vaults, data lakes or data marts to move quickly across environment or technology stacks.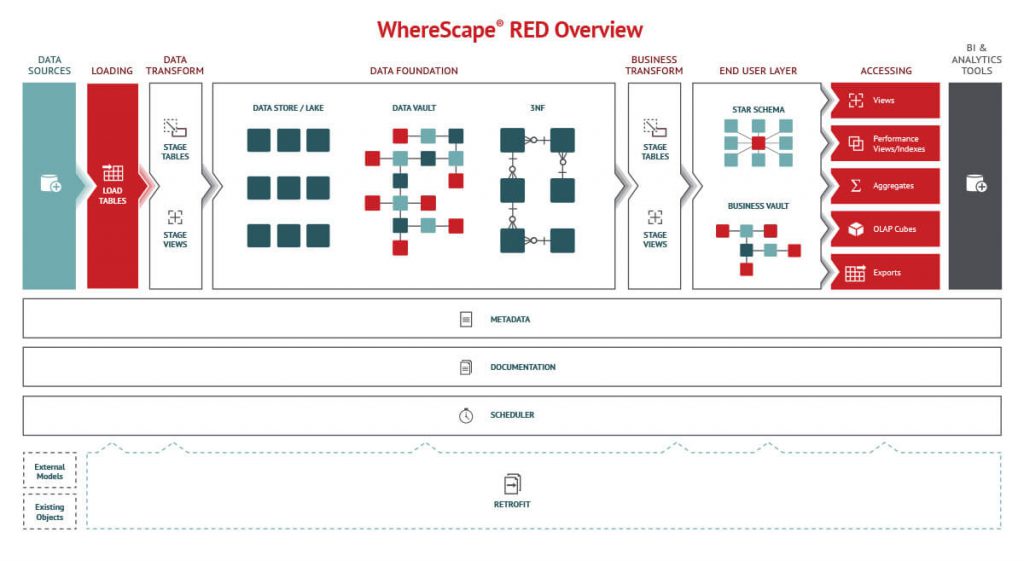 ---
WhereScape RED
Shorten data development, deployment and operation using a simple interface & code templates, storing the design within the metadata. Instantly generate all of the code needed to instantiate and populate your project and easily schedule and migrate changes.
Eliminate 95% of the hand-coding typically required in data infrastructure development. WhereScape RED automatically generates SQL and other code native to your target platform, including big data analytics. Leveraging platform-specific best practices and features—such as optimized database loaders—WhereScape automation boosts productivity and eliminates code inconsistency.
WhereScape RED automatically produces all documentation and updates it with any changes as you work. Full data source lineage, including track back, track forward, and impact analysis functions come out of the box. IT will always have an up-to-date, accurate and complete view of the data infrastructure.
Choose the data infrastructure methodology best suited to your project. WhereScape RED provides built-in best practices and out-of-the-box wizards and templates for common data warehouse modeling methodologies. Reduce complexity for IT teams, accelerated development capabilities and the ability to deliver data infrastructure supporting business intelligence more easily.
Here is a fact sheet that will provide you with further details on this product.
WhereScape RED builds data warehouses in the major technology platforms – Azure, Snowflake, Oracle, SQL Server, DB2 and Teradata including Microsoft SSIS Packages & Analysis Services (Cubes and Tabular Models.)
---
Data Warehouses Right, Now
This product's integration, speed and effectiveness enable data warehousing teams to produce data warehouses and marts that deliver value quicker, remain relevant to business users longer and can be enhanced and modified nearly instantaneously.
---
Architect As You Automate –
Come Try It With Us!
Like all concepts, seeing is believing. Let us prove to you what WhereScape can do.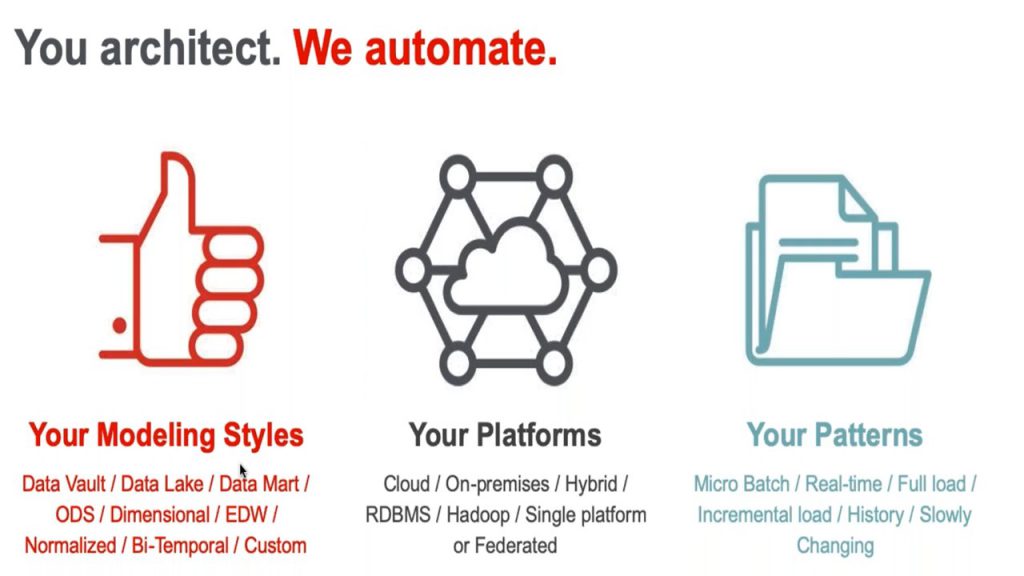 ---
Engaging Data is always open to accepting data challenges – provide us with the data & with the constraints, and we will provide you with a prototype data warehouse in 24 hours, as per specification, complete with documentation!
Alternatively, why not set up a walk-through of WhereScape RED, 3D and Data Vault Express with one of our expert consultants.
You can see the product in action, and talk through your specific needs, at the same time. We are happy to do this via a conference/web call or in person.
Don't take our word for it. If you'd like to know why nearly 500 companies use WhereScape RED & 3D as their data warehousing IDE, check out the list of companies here.
---
If you are interested in learning more about WhereScape RED or WhereScape 3D and how this can help your data project? Please contact our team to find out more.
---
---