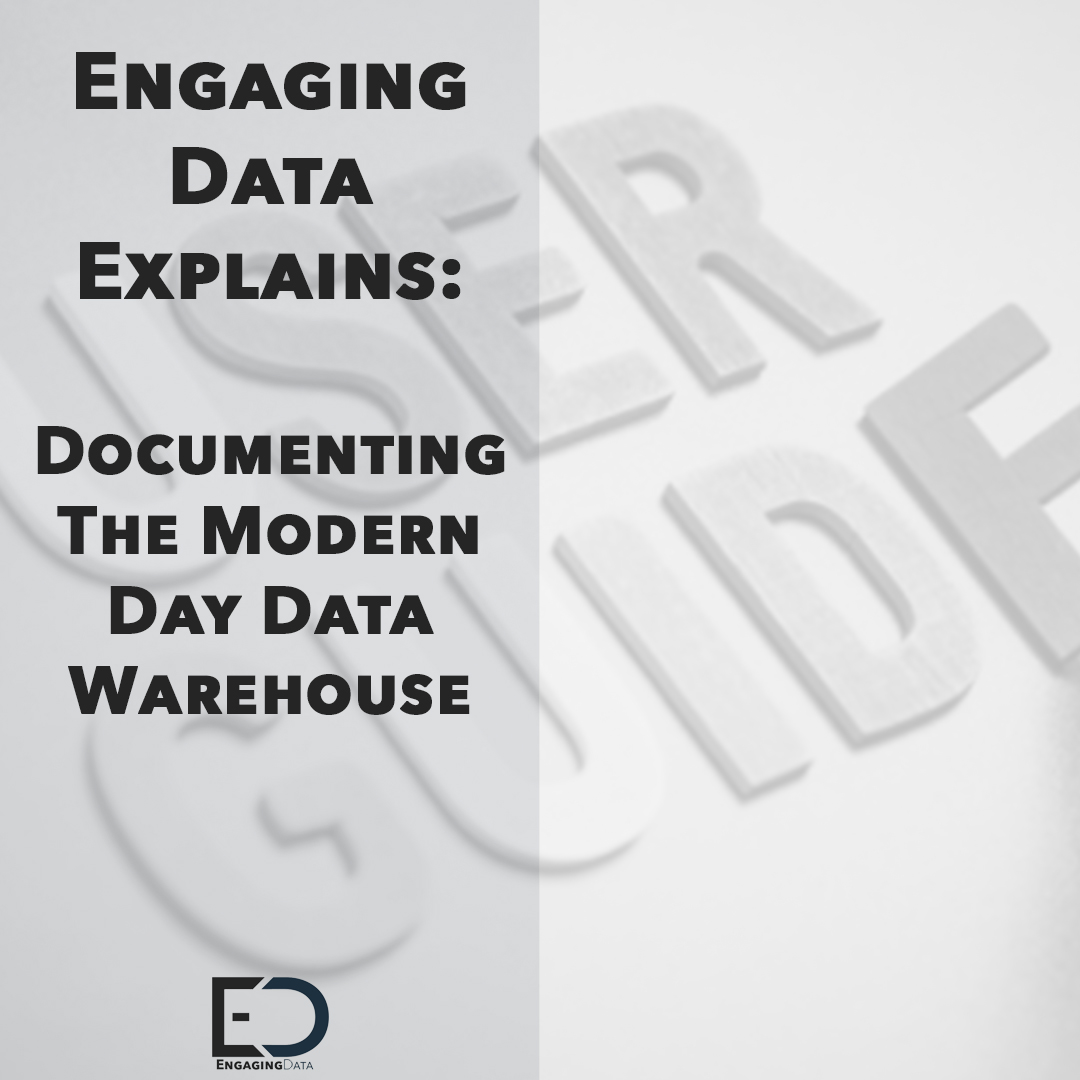 Engaging Data Explains:
Documenting The Modern Day Data Warehouse
---
When you're operating a modern-day data warehouse, documentation is simply part of the job. But it's not necessarily the easiest or most logistically straightforward part of the process, while also being important. Documentation is, in fact, invaluable to the continued development, expansion, and enhancement of a data warehouse. It's therefore important to understand everything that is entailed in adequately documenting, in order to ensure that your data warehouse processes run smoothly.
Understanding your Audience
One of the first things to understand is who you are compiling the documentation for. Support, developers, data visualisation experts, and business users could all be possible recipients. Before you answer this question, you really need to fully understand the way that your organisation operates, and open the lines of communication with the appropriate departments.
A two-way dialogue will be productive in this ongoing process. This process of communication will then help ensure that you keep the documents in line with the design. This is vitally important, as any conflicts here can render the whole process less than constructive than is ideal.
And it's especially vital considering how fast documentation moves nowadays. Everything has gone online, and is based on Wiki. Whether it's Confluence, SharePoint, or Teams, all sorts of Wiki documents are being produced by businesses with the intention of sharing important information. These shareable documents are updated with increasing regularity, meaning it is important to get your strategy in place before beginning.
Different approaches to data warehouse design can also impact the amount of time that a document is live before being updated. If you are lucky enough to make weekly changes to your data warehouse, you will be making incremental changes to the documentation itself. Development teams spend hours on updating the documentation rather than doing what they are good at….developing data solutions! Naturally, minimising this where possible is always preferable.
Self-Service Business Intelligence
Documentation is also crucial in self-service business intelligence. The integration of private and local data in this area, into existing reports, analyses or data models, requires accurate documentation. Data can be drawn in this area from Excel documents, flat files, or a variety of external sources.
By creating self-service functionality, business users can quickly integrate data into what can often be vital reports. Local data can even be used to extend the information delivered by data warehousing, which will limit the workload that is inevitably incumbent on data management. The pressure on business intelligence can be quite intense, so anything that lessens the load is certainly to be welcomed.
Another important aspect of documentation is that it reduces the number of questions that are typically directed at the IT and data warehousing teams. One thing anyone that works in IT knows only too intimately is the vast amount of pressure that can be heaped upon them by both internal and external enquiries. Again, anything that reduces this will certainly be favourable.
The data warehouse team also has huge responsibility within any organisation. They are required to produce a vast amount of information for front-end business users, and getting documentation right can certainly assist with this process.
Importance of Transparency
One important aspect of documentation that can sometimes be overlooked is the importance of transparency. This works on every level of an organisation, with the importance of sharing everything related to documents absolutely vital. Once this level of transparency is implemented, people who understand the data deeply can improve the documentation, or suggest changes to the Extract, Transform, and Load (ETL) and Extract, Load, and Transform (ELT), if this is indeed deemed necessary.
Conversely, it's also important to understand that not all technology is suitable for documentation. As much as businesses and organisations would love this process to be completely holistic, this is not always possible.
Thus, packages such as Power BI, QlikView and QlikSense, and even Microsoft's trusty Excel, are not necessarily ready to be documented. These software packages can use data, but often do not have the ability to provide a document set that explain how the data is being used, and for what purpose. Recently, Power BI has taken steps to ensure that the app can help with data lineage, but this remains better suited to IT teams, as opposed to Business Users.
Attempting to document data across multiple technologies is tricky, but Wikis can provide IT teams with the ability to collate all of this information into a central hub of knowledge, making access much more logistically convenient.
Conclusion
Ultimately, IT departments, data warehousing teams, and report developers should all be encouraged to produce documentation that contributes to the overall aims of their organisations. Anything excessively technical is not good enough for modern business requirements, especially considering the importance of communication, and of ensuring that everyone within an organisation is acquainted with as much vital data as possible.
Modern-day technology makes this goal a reality, and this means that it is increasingly an expectation of end-users. Failing to prepare properly in this area could indeed mean preparing to fail, as organisations will simply have failed to meet the compelling desires of the market. It is therefore vital for documentation to be dealt with diligently.
Getting this piece right, will go a long way to help with data governance!
---
If you would like to know more about how Engaging Data help companies to automate documentation, please contact us on the below.
---
---