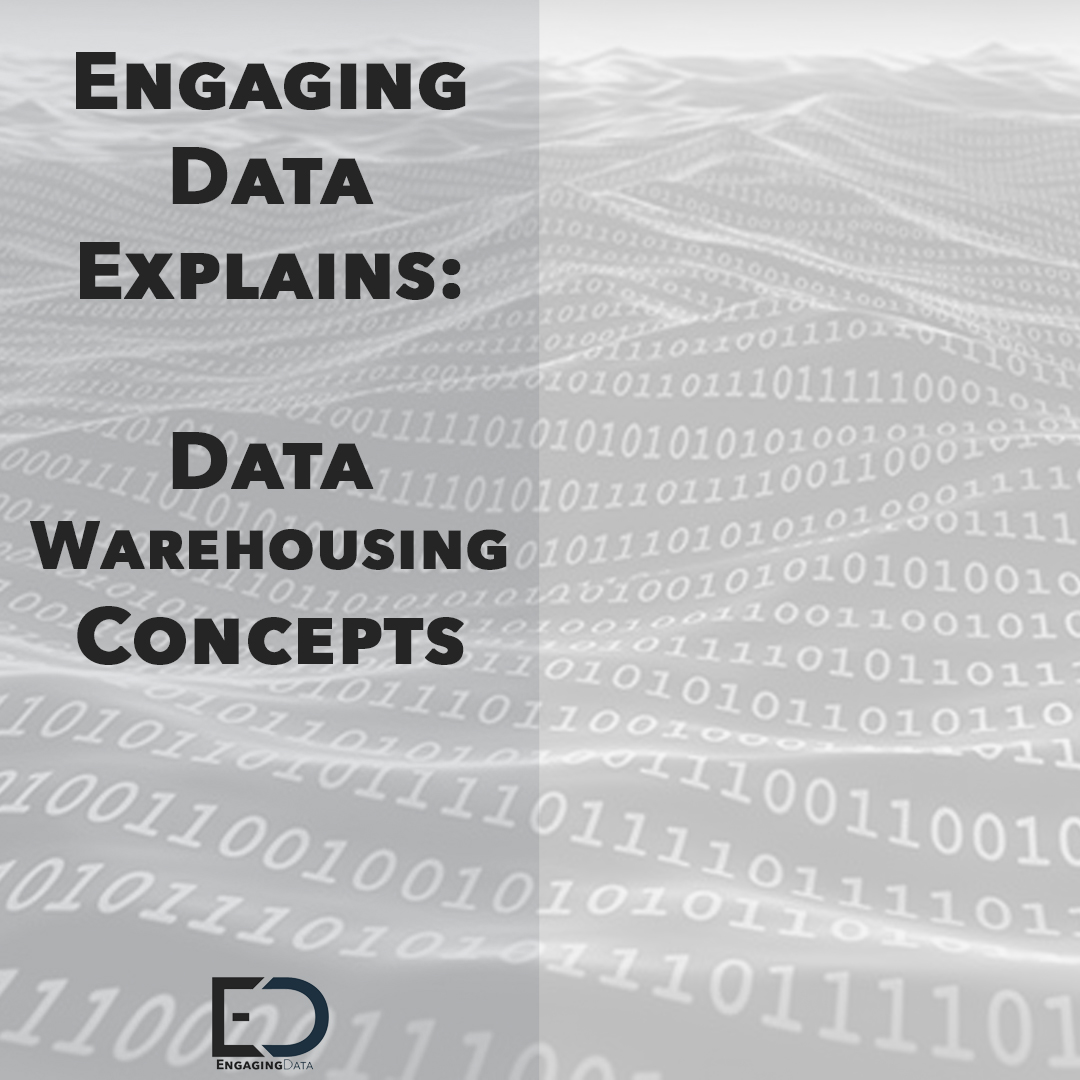 Engaging Data Explains:
Data Warehousing Concepts
---
Modern commerce is an environment in which companies are increasingly being required to make complex, data-backed decisions. Dealing with vast amounts of information has become an essential feature of a business, which can often lead to siloed data. This is difficult enough to store, let alone analyse or understand.
In many cases, business use demands require a more sophisticated system, improving data management and providing a holistic overview of essential aspects of the company. One of the best ways to achieve this is to invest in a data warehouse. Yet, many companies are still unaware of what this entails or how it can help their business.
---
What is Data Warehousing?
In simple terms, a data warehouse is a system that helps an organisation aggregate data from multiple sources. Instead of experiencing the sort of separation and siloing discussed previously, data warehousing makes it possible to draw together information from disparate sources. It's almost akin to a universal translator of languages. Typically, data warehouses store vast amounts of historical data, and this can then be utilised by engineers and business analysts as required.
Data warehousing is particularly valuable as it essentially provides joined-up information to a company or organisation. This was quite impossible until relatively recently, as data has always been based on separate sources of information. Transactional systems, relational databases, and operational databases are often held entirely separately, and it was almost unthinkable until recently that the data from the systems could be effectively combined.
But in this Information Age, companies are seeking a competitive advantage via the leveraging of information. By combining the vast amount of data generated together into one source, businesses can better understand and analyse key customer indicators, giving them a real insight into the determining factors of the company. Data warehousing can build more robust information systems from which businesses can make superior predictions and better business decisions.
In recent years, the escalation and popularisation of the cloud has changed the potential of data warehousing. Historically, it was more usual to have an on-premise solution, which would be designed and maintained by a company at its own physical location. But this is no longer necessary. Cloud data architecture makes it possible to data warehouse without hardware, while the cloud structure also makes implementation and scaling more feasible.
Data Lakes
However, those who are uninitiated in deep data topics may encounter terminology that can be somewhat baffling! The concept of a data lake seems rather surreal and tends to conjure up imagery that is, ultimately, completely useless! Inevitably, people who have never encountered the concept of data lakes before find themselves imagining an expanse of azure water glittering in the sunlight. Well, data lakes aren't quite like that.
A data lake is used for storing any raw data that does not currently have an intended use case. It really can be seen as similar to the wine lakes that used to be in the news quite regularly, but it doesn't seem to be a talking point any longer! You can equally view a data lake as a surplus of information; it is data that may become useful in the future but does not have an immediate usage at this point in time. Thus, it is stored away in a lake until it can be consumed adequately.
This differs from data warehousing, which is used to deal with information that is known to be useful more efficiently. Data warehousing may deal with data stored in an impenetrable format. Still, there is a clear use case for understanding this information, or it needs to be stored for a particular reason.
When to use a Data Warehouse
There are a variety of reasons that a company or organisation would choose to utilise a data warehouse. The most obvious would be as follows:
If you need to start a large amount of historical data in a central location.
If you require to analyse your web, mobile, CRM, and other applications together in a single place.
If you need more profound business analysis than it has been possible to deliver with traditional analytic tools, by querying and analysing data directly with SQL, for example.
In order to allow simultaneous access to a dataset for multiple people or groups.
Data warehousing makes it possible to implement a set of analytical questions that would be impossible to address with traditional data analytics tools. Collecting all of your data into one location and source makes it possible to run queries that would otherwise be completely unfeasible. Instead of asking an analytical program to continually run back and forth, back and forth between several locations, the software can get to grips with one data source and deliver efficient and more holistic results.
Data Warehouse Factors
Many businesses now require data warehousing services to deal with the vast amount of data that is now generated. And that 'many businesses' will rapidly become 'most businesses', and then 'virtually all businesses in the near future. But those that are inexperienced in this field are often confused about what factors to take into consideration.
Thus, we would recommend looking at these six key elements when considering warehousing:
The sheer scale of data that you wish to store.
The type of information that you need to store in the warehouse.
The dynamic nature of your scaling requirements.
How fast you require any queries to be carried out.
Whether manual or automatic maintenance is required.
Any compatibility issues with your existing system.
Concerning the first of these factors, data can be somewhat different in terms of its basic structure. Some data may be highly complex, but it can still be quantifiable, easily organised. However, in the era of Big Data there is a vast amount of unstructured data, which cannot be easily managed and analysed. Companies that generate a vast amount of unstructured data and need to collate and understand it are certainly excellent candidates for a data warehousing solution.
There is a lot to learn when it comes to the subject of data. And it can frankly be a little daunting at times. But what is certain is that this topic isn't going anywhere. Big Data is here to stay. That's why we have created our Data Vault 2.0 solution. Data Vault can ideally serve your organisations' data needs when this is becoming an issue of paramount importance.