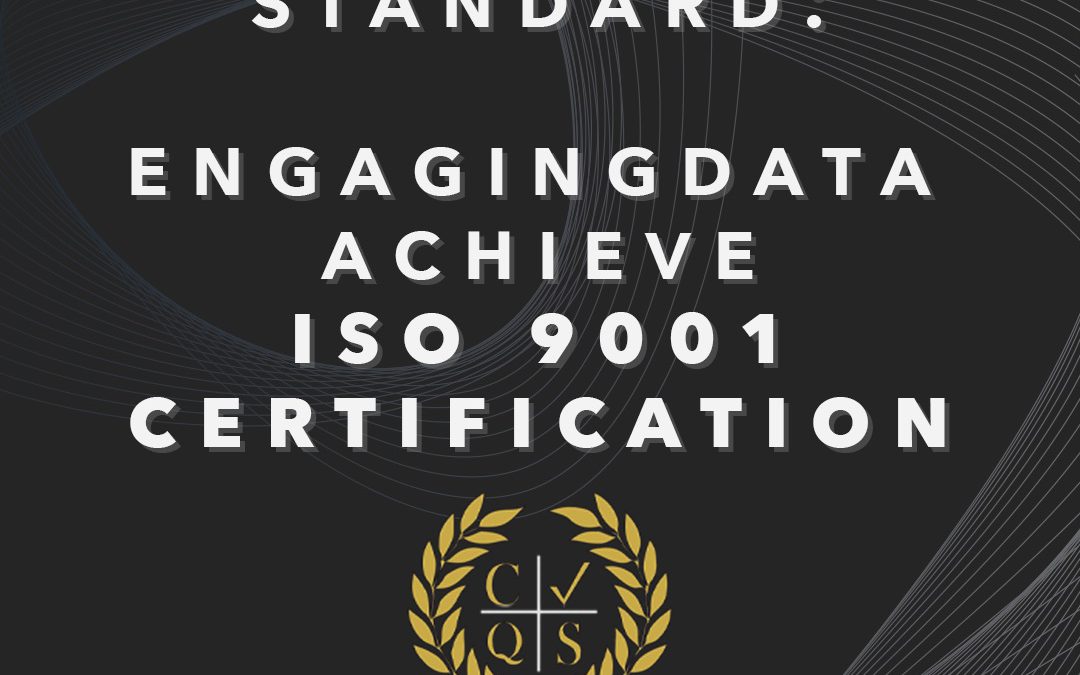 Setting

the Standard:
Engaging Data Achieves ISO 9001 Certification for Exceptional Quality and Customer Satisfaction

 
---
Everyone wants exceptional quality and customer satisfaction in their organisation – obviously! Companies are constantly seeking ways to stand out and deliver unparalleled value to their customers.  
This is why at Engaging Data, we embarked on a journey towards achieving ISO 9001 certification. 
This is a testament to our unwavering commitment to quality and customer-centric practices.  
This blog post explores the significance of our ISO 9001 certification and how it reinforces our dedication to setting the standard for excellence (and we want to boast a little bit, it is a great achievement!) 
Understanding ISO 9001 Certification 
ISO 9001 certification is more than just a stamp of approval – it's a mark of distinction in the business world.  
This internationally recognized standard signifies a company's adherence to a rigorous quality management system that ensures consistent excellence in products and services.  
ISO 9001's emphasis on systematic processes, continuous improvement, and customer satisfaction aligns perfectly with Engaging Data's core values. 
Engaging Data's Commitment to Quality 
From the beginning, we have set a high bar in terms of quality.  
Our dedication to delivering products and services that exceed customer expectations has been the cornerstone of their success.  
Before pursuing ISO 9001 certification, we had robust quality management practices in place, making the certification journey a logical step forward. 
The Certification Journey
The path to ISO 9001 certification is no small feat, and our small back-office team embraced the challenge wholeheartedly.  
The journey consisted of multiple essential steps: 
Internal Assessment –

Engaging Data conducted a thorough evaluation of their existing processes to identify strengths and areas requiring improvement.

 

Gap Identification –

Gaps between current practices and ISO 9001 requirements were pinpointed, providing a roadmap for enhancements.

 
Implementation of Changes –

Necessary changes were introduced to align with ISO 9001 standards, promoting efficiency and quality.

 

Documentation –

Processes and procedures were meticulously documented to ensure clarity and consistency.

 

Employee Training –

A culture of quality was cultivated through employee training and awareness programs.

 

Pre-Certification Audits –

Rigorous audits were conducted to ensure adherence to ISO 9001 criteria.

 
Throughout this journey, our back-office team faced challenges that tested their resolve, but the spirit of teamwork and collaboration prevailed, driving them toward their goal. 
Benefits of ISO 9001 Certification
The ISO 9001 certification has already begun to bear fruit for Engaging Data: 
Streamlined Processes –

ISO 9001 has facilitated the optimization of internal processes, resulting in increased efficiency and reduced waste.

 
Enhanced Quality Control –

Rigorous quality checks at every stage have become a norm, leading to higher quality products and services.

 

Increased Customer Satisfaction –

Engaging Data's customer-centric approach is further fortified by ISO 9001, fostering lasting customer relationships.

 

Improved Internal Communication –

Clear documentation and defined processes have improved communication within the organization.

 
Customer-Centric Approach
Our commitment to our clients shines even brighter with ISO 9001 certification.  
The systematic approach of ISO 9001 aligns seamlessly with Engaging Data's client-focused values. Through consistent communication channels, we collect and act upon customer feedback, resulting in a continuous improvement loop that enhances customer satisfaction.
The Future with ISO 9001 Certification 
This certification marks not the end, but the beginning of a journey of continual improvement for Engaging Data.  
We are poised to maintain the high standards set by ISO 9001 while constantly seeking ways to enhance its quality management systems. Additionally, the certification could pave the way for further accolades and recognition within the industry. 
In achieving ISO 9001 certification, this demonstrates our commitment to delivering nothing short of excellence.  
This milestone is not just an achievement for the back-office team but Engaging Data as a whole! 
Yes, this blog post was us boasting a little bit, please forgive us!  
But it is exciting news for us and will benefit our future clients, giving them an understanding of our standards of working and always striving for greatness in both quality and client experience.